Junior People Operations Specialist (40 uur p/w)
At Nexio Projects, we firmly believe that everyone has the power to shape a more sustainable future. As a trusted advisor and partner to clients in a wide range of sectors, we simplify the challenges associated with sustainability and bring clarity and transparency to fuel bold action. We are facilitators and implementors at heart and strongly believe in the power of incremental change to shape a more sustainable future.
As a dynamic team, we form a motivated group of 25+ co-workers headquartered in Rotterdam and have cultivated a unique team spirit that is both impact-driven and purpose-oriented. We are humble, hardworking and continuous learners. Everyone's voice can be heard, promoting an environment in which maximum potential can be reached is at our core. Because of this, we continuously look for enthusiastic intrapreneurs who can do things seriously, without taking themselves too seriously.
Success Profile
What makes for a successful People & Happiness support at Nexio Projects? Here are some of the traits we are looking for:
Joyful
Engaged
Team Player
Altruistic
Trustworthy
Problem-Solver
Curious & Creative
Aware & Aligned
As a Junior People Operations Specialist in our Rotterdam Office, you will have an active role in diagnosing and evaluating our HR processes and fostering wellbeing, learning & development within our organization. You will be a power team together with the Head of People.
Main Priorities
Recruitment: Recruiting for open positions, both technical/broad roles & junior/senior levels
Internal Engagement: Supporting the internal engagement through surveys, tasks with the rest of the team & promote feedback culture
Employer Branding: Supporting on extending our employer branding strategy, take ownership of events & fairs, communicate with partners
Learning & Development: Review our onboarding programme, organize the onboarding on new team members
Administrative tasks: Payroll, Benefits, Contracts, etc..
Skills and Experience
Growth mindset with strong interest in scaling teams and solutions;
University degree, ideally at a Master's level or higher
 6+ months to 1 year of HR experience working in the field (can be specialized in one of the priority topics as recruitment for example);
Some logistics
Location: Rotterdam
Optimal start date: February 2022
Other: Presence required in the Rotterdam office (50/50 work from office, work from home policy). We take every precaution necessary to minimize risk of COVID-19 infection among employees and adhere to all RIVM guidelines.
Application Process
If you are interested in the role, fill in the Online Application form and make sure to attach the following, please:
CV
Cover Letter telling us about yourself, why you'd like to be part of our team and your goals at Nexio. Beyond your professional and academic background, we are interested in all the dimensions of your personal development journey, so feel free to share more about your ikigai.
1 minute video explaining to us which values do you live by and why, and what do you want to bring and contribute to the Nexio Team.
We are an equal opportunity employer and embrace the importance of diversity, equity and inclusion within the recruitment process. We strongly encourage applicants from all backgrounds and experience. The more inclusive we are, the better we can deliver our mission to shape a more sustainable world.
Privacy Policy
By submitting your application to Nexio Projects, you declare to understand and agree that Nexio Projects NL B.V. (Westblaak 228, 3012 KP Rotterdam, The Netherlands, +31 (0)850 656 938, info@nexioprojects.com) processes your personal data in accordance with the General Data Processing Regulation and our Privacy Policy. We process this data for recruitment purposes only and we will not retain your personal data for more than 1 month after termination of the selection procedure.
However, we would like to retain your personal information longer for recruitment purposes with regards to our future job openings. If you would like us to retain your data for this purpose, please explicitly provide your consent to Nexio Projects NL B.V. to process your personal data up to 1 year after termination of this selection procedure.
Please consider the environment before printing this application.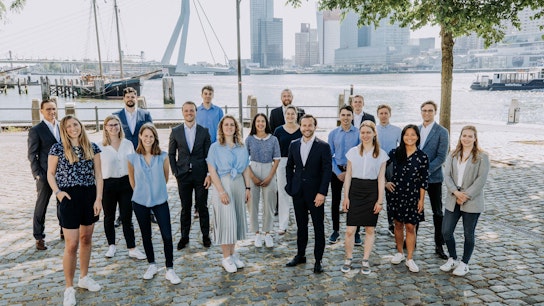 Hulp nodig bij solliciteren?